Books, Periodicals, Ephemera
Detailed Information for Seller's item number:
PB543
ASTOUNDING Science Fiction: April, Apr. 1939 (One Against the Legion; Cosmic Engineers)
Author: Astounding (Jack Williamson; Clifford D. Simak; Nat Schachner; A. M. Phillips; Malcolm Ameson; Eando Binder; Harry Walto
Publisher: Street & Smith NY 1939

Vol. XXIII, No. 2. Pulp magazine. Edited by John W. Campbell, Jr. Cover art by Schneeman for "Worlds Don't Care" (novelette) by Nat Schachner. Includes "One Against the Legion" (pt. 1 of 3) by Jack Williamson; "Cosmic Engineers" (pt. 3 of 3) by Clifford D. Simak; "Revolt" (novelette) by A. M. Phillips; "Catalyst Poison" by Malcolm Jameson; "Rope Trick" by Eando Binder; "The Cache" by Harry Walton. Readers' Departments: "The Editor's Page: Jackpot!"; "In Times to Come"; "Analytical Laboratory"; "Brass Tacks and Science Discussions". Illustrated by Binder, Fisk, Orban, Schneeman & Wesso. Letters from Isaac Asimov, Ray Douglas Bradbury, and others. Minor wear; tanning; minor stress. Single Issue Magazine Very Good+

Price: US$26.13. Quantity available: 1.
Appr.: | AUD 35.31 | CAD 34.84 | EUR 24.65 | GBP 20.67 | JPY 2613 | MXN 436 | ZAR 373 |
| | | |
| --- | --- | --- |
| | | Click button to contact dealer and purchase direct. |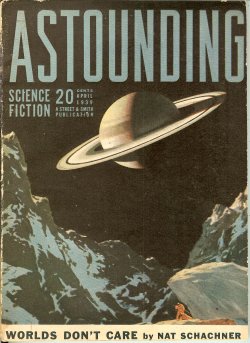 Seller and Location:
Books from the Crypt
14500 Keeneland Circle
North Potomac, Maryland
20878-3769 United States
Phone: 240-507-6444 , Fax: call first
Website: http://www.booksfromthecrypt.com
Email: bookcrypt@comcast.net
Seller's item number: PB543

Seller's Terms of Sale:





Out of Print, Rare and collectible SF, Fantasy, and Horror books, pulps, and comics. Emphasis on pre-1970 material, and particularly the Pulp Era.
Internet sales only. Free Booksearch.



This Is Our Featured Scan of the Day (click on scan for more information, or skip over to proceed).



Established in 1997, we are a mail order business catering to the pulp magazine, proto-science fiction, and early SF, Fantasy, Supernatural, and horror customer. We do also carry newer items, although our specialty is the earlier material. We also have quite a few comics in supply. If you find what you like, you may order securely through the online 'add to basket' option, or please e-mail to hold books or to request search. We will e-mail a confirmation of your request/ order with shipping confirmation or options. Please do not mail Check/ Money order until after you've received confirmation of your order. All orders are shipped upon receipt of payment. Amex, Visa,Mastercard and Discover are accepted. Md residents must add 6% sales tax, as we are physically located in MD and must render unto Caesar his due. Although we update our listings daily, and because we sell through many venues, all orders subject to prior sale. Default shipping is Bookrate/ Media/ Printed matter Mail @ $3.95 for 1st item and $1 each additional in same order. Priority mail starts at $10. If contacting us directly, after we receive your request, we will confirm and offer you an option foreither the listed default prices, or a priority option (to be determined by weight). Outside the US, please either email for quote, or place order directly online where default rates are already set. Overweight items are not able to be shipped at default prices. In that case, we will provide all reasonable options. Returns accepted with prior notice and within 2 weeks of receipt. Shipping will be refunded for dealer error. Late books, or lost in mail books - the post office has informed us that it takes 3 months for misdirected mail to sort itself out. This is a postal problem, not our fault, and we do ask that you be patient if this occurs. If after 3 months the item still hasn't arrived, we will refund you full purchase price. This has only happened a handful of times in the past and they all arrived pretty much exactly after 3 months. We grade hardcovers according to standard bookman or IOBA practice, paperbacks and magazines tend to grade more like comics (see http://www.booksfromthecrypt.com/terms.htm#terms%20of%20sale), and comics grade as in Overstreet. We will happily answer any questions you may have regarding grading.
Want to find more items on this subject? Click here.

To find more books from this dealer, Click here.